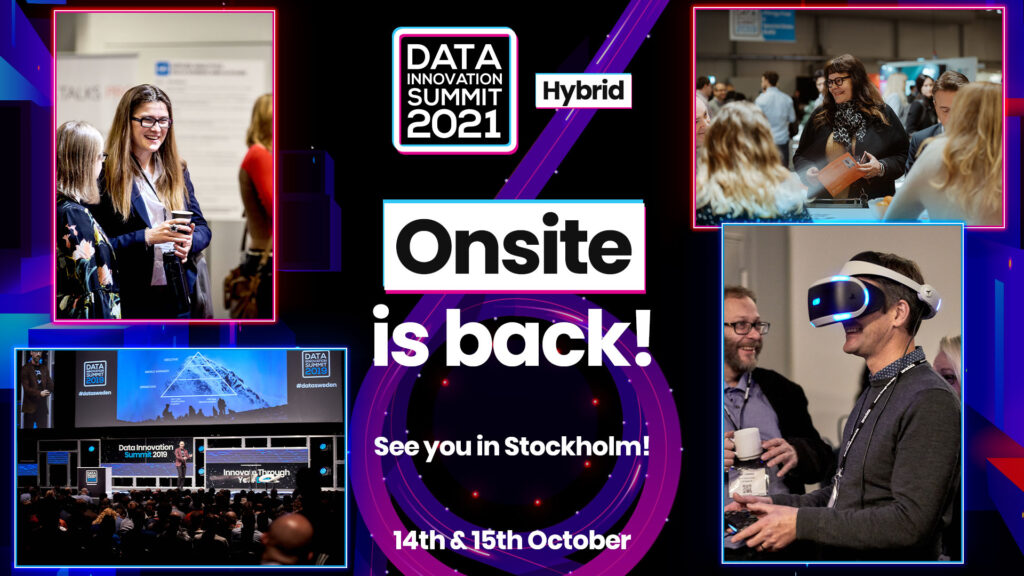 As we have thus far communicated and now confirm, the Data Innovation Summit 2021 is going to take place as a Hybrid event, both onsite and online on the 14th and 15 October 2021.
Online we can accommodate an indefinite amount of visitors. However, given the capacity of the venue and the recommendations from the authorities and the venue for safe events, the onsite experience this year will be limited to a max of 500 participants. As a delegate, you pay for the online experience and you can upgrade to a true hybrid experience, onsite and online attendance, at any point. The onsite upgrade tickets are on a first-come-first-served basis. Once we have reached the capacity the option for an onsite upgrade will be closed.
Delegates will be able to choose between experiencing the event online through Agorify, onsite at Kistamässan (Arne Beurlings Torg 5, 164 40 Kista, Sverige) or switch between onsite and the online and onsite experience at any time.
HYPERIGHT SAFE EVENTS PROTOCOLS – Low Contact and Paper Free Events.
The safety and security of our staff and attendees is our priority. We work closely with the venue, local and national authorities to identify risks, assess them and develop security plans for our events.
As your health and well-being are our highest priority, we have raised our already high standards of SAFE EVENTS and, together with our Suppliers, developed new health and safety routines to meet the challenges posed by Covid-19, all to ensure that our events are clean and safe meeting places to meet, learn and do business, and provide a unique Safe Event experience for you and your team and make you feel completely safe when you visit our events.
As part of our Safe Events standards, we have defined General Safety and Security Information and COVID-19 Health and Safety Plans & Proceedings that everyone attending our events should be aware of and follow.
You can read the General Safety and Security Information and COVID-19 Health and Safety Plans & Proceedings on our Support Center page.
We are extremely excited to welcome you at the 6th Hybrid Edition of the Data Innovation Summit, no matter if you are attending onsite or online, and accelerate AI-Driven Transformation in the new decade.